Seattle might be known for gray skies, endless forests, and a seemingly perpetual rain season, but don't be Judgy McJudgerson – there are plenty of places to eat, play, and relax. Barry's Seattle opened in March, and we couldn't be happier to call the Emerald City home. 
WHERE TO EAT
With options ranging from beet avocado toast to biscuits and gravy, your taste buds won't believe that most of the items on the menu at vegetarian restaurant Café Flora are also vegan or gluten free. The menu changes seasonally, but one thing remains the same all year: tasty, creative food where you won't miss the meat.
Looking to eat clean in the PNW? Try Eve. Bison burgers, grain bowls, and salads are all on the docket at this "elevated hippie food" joint.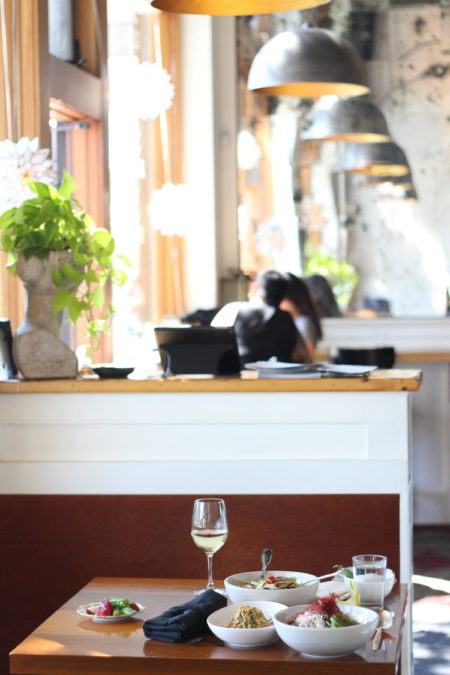 Eve
Sure, NYC has great pizza, but Seattle is home to some serious pizza – Serious Pie, that is. This outpost serves up delish stone-fired, crusty pizzas with local ingredients.
Cheat day? Wander over to one of the many famous Seattle spots including General Porpoise Coffee & Doughnuts, Top Pot Donuts, or Mighty O (these guys are actually vegan, so you can at least feel a little better about this choice). #treatyoself
WHERE TO PLAY
If you're looking for something other than a bar, Seattle has options. With plenty of jazz bars like Tula's Jazz Bar or Dimitriou's Jazz Alley, you can be swanky and musically cultured. 
Although it's technically a restaurant, The Pink Door is a Seattle institution. With eclectic décor of mismatched candelabras and adorned walls, this place features more than just food. On Saturday nights, enjoy dinner and naughty cabaret from 9:30pm until whenever they decide the show is over.
Get your day drink on at Fremont Brewing Company. You can BYOF – as in bring your own food – and enjoy family-owned craft beer alongside free pretzels served at this urban beer garden.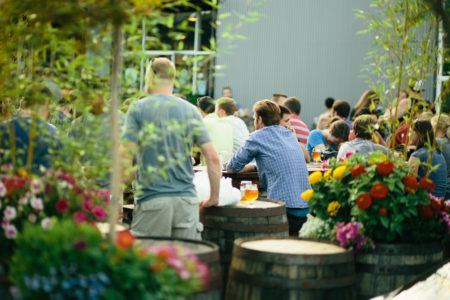 Freemont Brewing Company
If you're looking to stay in one neighborhood for a night of mischief, then you can't miss Capitol Hill. From a quirky spot in a former mortuary (Pine Box) to a carnival-themed bar complete with an arcade and corn dogs (Unicorn), there's a place for everyone in this 'hood. You do you!
WHERE TO DRINK
Known for a plentiful abundance of craft beer, Seattle is home to many a brewery in addition to Fremont (above), including Pike Brewing Company, Cloudburst Brewing Company, and Reuben's Brews.
Wet your whistle at Canon, featuring America's largest spirit collection. Craft cocktails are on a whole other level here; we're talking classic drinks amongst originals featuring apple brandy, chai cognac, and wolfberry tequila. If the menu gets too overwhelming just ask for the Shrouded Roulette; pick your poison as your base, then let the bartender handle the rest. May the odds be ever in your favor.
Don't blink, or you might miss Bathub Gin & Co. This moody speakeasy is hidden behind an unassuming wooden door, serving up local gin and tonics and the classic old fashioned.
Get the best of all worlds at The Belmont. Part wine bar, part regular bar, and part cheese tasting room, this place has it all. With vintage leather couches and communal tables, enjoy frosé during the summer or classic cocktails year-round.
WHERE TO RELAX
After a night out, what's better to cure a hangover than coffee? When you can get a mani/pedi at the same time. Anchored Ship Coffee Bar serves up signature almond milk lattes in one room, then down the a secret hallway you'll find Juniper, their nail salon.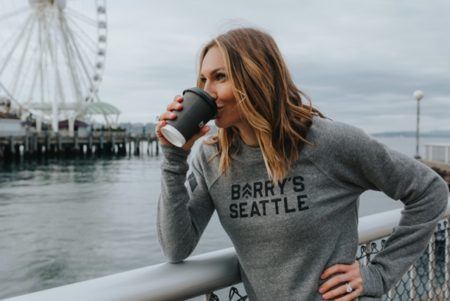 Go green. Washington Park Arboretum contains 230 acres of flora and fauna, providing a quiet sanctuary from the buildings on the opposite side of town. Find your inner Zen and visit the Japanese Garden located inside, complete with a full tea ceremony.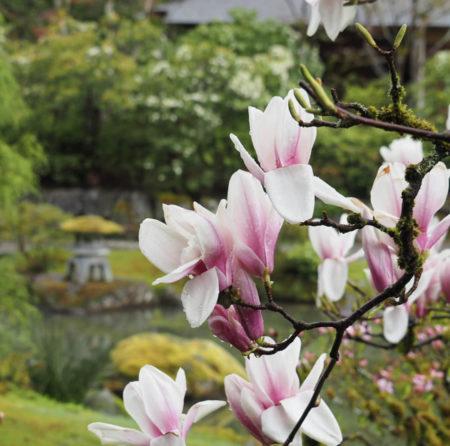 Japanese Garden
But do you even float, bro? Make your way into an egg-shaped, water-filled chamber at Float for de-stressing, pain relief, and meditating. Stretch out and zone out in your personal pod for an ahhh-mazing experience.
WHAT TO WEAR
The 90s called, and they want their uniform back. Think easy, practical pieces for Seattle like jeans, plaid shirts, sneakers, and yes – even North Face.
If you're low on goods, hit up Nordstrom's flagship HQ location, or visit some of the local boutiques for more of an independent, slightly grungier vibe. 
WHAT TO DO AFTER YOUR BARRY'S CLASS
After you've been Barry'd, enjoy a hot shower; you deserve it! Then down a nutritionist-designed shake (that you can pre-order before class) at our Fuel Bar to re-energize post workout. 
Whole Foods Market is located just across the way from Barry's Seattle so you can stock up on healthy snacks that'll keep your bod in check.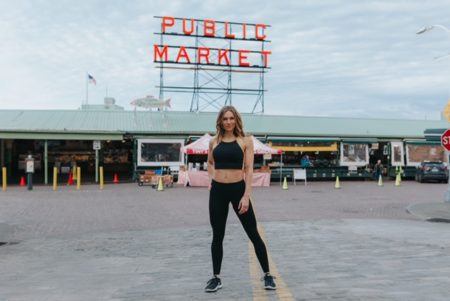 Keep those hard-earned muscles with a cool-down walk to one of two famous Seattle locations: the Space Needle and the Pike Place Market. (Don't forget to take a photo of the famous market sign, because we all know if it's not on the 'gram, did you even go?)