When Toronto Founding Instructor, Karina Vottchal needs a pre-workout snack, she whips up a batch of her Protein Oatmeal cups.
According to Karina, "These yummy muffins are high in protein, fiber, and are great for meal prepping so you can use them as breakfast or a pre-workout snack the entire week! I hope you love them as much as I do!"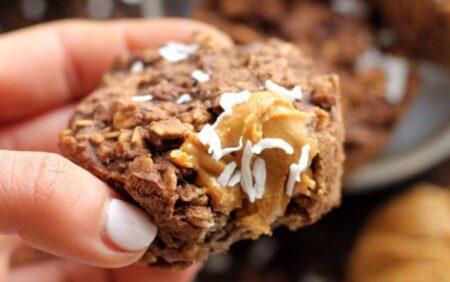 Protein Oatmeal cups
INGREDIENTS 

 
2 tbsp chia seeds + 6 tbsp water
3 medium to large ripe bananas, mashed (the riper the better)
1/4 cup creamy natural peanut butter
1/4 cup pure maple syrup (optional for sweetness)
1 scoop chocolate plant-based protein powder
3 cups old fashioned oats (gluten-free if necessary)
1/4 tsp salt
INSTRUCTIONS
Preheat the oven to 350*F. Spray muffin tin with cooking spray.

In a small bowl, stir together chia seeds and water to make "chia eggs." Alternatively, you could use 2 large eggs. Set aside.

Place bananas in a large bowl and mash with a fork. Add non-dairy milk of choice, peanut butter, optional maple syrup, and vanilla and stir until well mixed. Stir in chia eggs.

Add protein powder, oats, cocoa powder, baking powder, and salt. Stir until combined.

Spoon mixture evenly into muffin tin. You can fill the tins to the top. You may have some leftover batter. Bake for 25 minutes.

Remove from the oven and cool in a pan on a wire rack. Once completely cool, store in an air-tight container in the refrigerator.