Have you been wondering what Barry's New York, Senior Instructor and Curriculum Coordinator, Ashley Perez, has been up to? Read on to find out how she's been keeping sane while she Shelters-in-Place.
WHAT I'M WATCHING
Right now, I'm binging The Last Man On Earth. 
TOTAL TRIGGER WARNING.
It takes place in the year 2020 after a virus kills everyone on the planet. Luckily Will Forte finds Kristen Shaw and comedy ensues. I'm really into it because it brings humor and levity to a subject that currently feels like it's crushing us slowly. Also, there are 60 episodes, so there's plenty of content…YEA NETFLIX, I'M STILL WATCHING.
WHEN I'M BORED I FACETIME _______,
My Barry's fam! Ian McAndrew has been lucky enough to watch me bake a cake, plus we do live commentary on RuPaul's Drag Race every Friday. DM me if you want us to go LIVE, we'll patch you in.
I've also done happy hour with Jenna Slevin, the General Manager of the Noho studio, and my nightly calls with Amber and Lindsey always feel like we have vodka sodas together. CHEERS!
GUILTY PLEASURE: FOOD
Well, I just got an air fryer, and am now, therefore, a wing master. Question for you, did you know you can wrap Oreos in crescent rolls and put them in the air fryer? You can!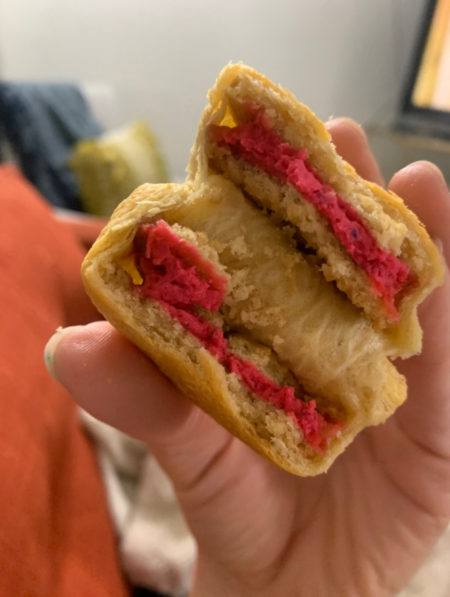 Pictured: An air-fried Golden Oreo, with pink icing, wrapped in a croissant.
Cooking and baking are very soothing for me, and usually, I don't have a lot of time to spend in my kitchen, so I've been having fun experimenting. 
Finally, I ordered a ton of Easter candy and am doing great, sweeties!!
GUILTY PLEASURE: TV
I watch more Disney+ than your kids do. Since this quarantine has started, I've watched Frozen II 12 times, and every night I fall asleep to a different Disney movie to soothe me. Again, I'm fine and doing great!!
Follow Ashley on Instagram and keep up!